YAIRPORT 5 'BZZZSTOP'
QUICK INSTALL OFF + ON GRID EV CHARGING + MINI SOCIAL HUB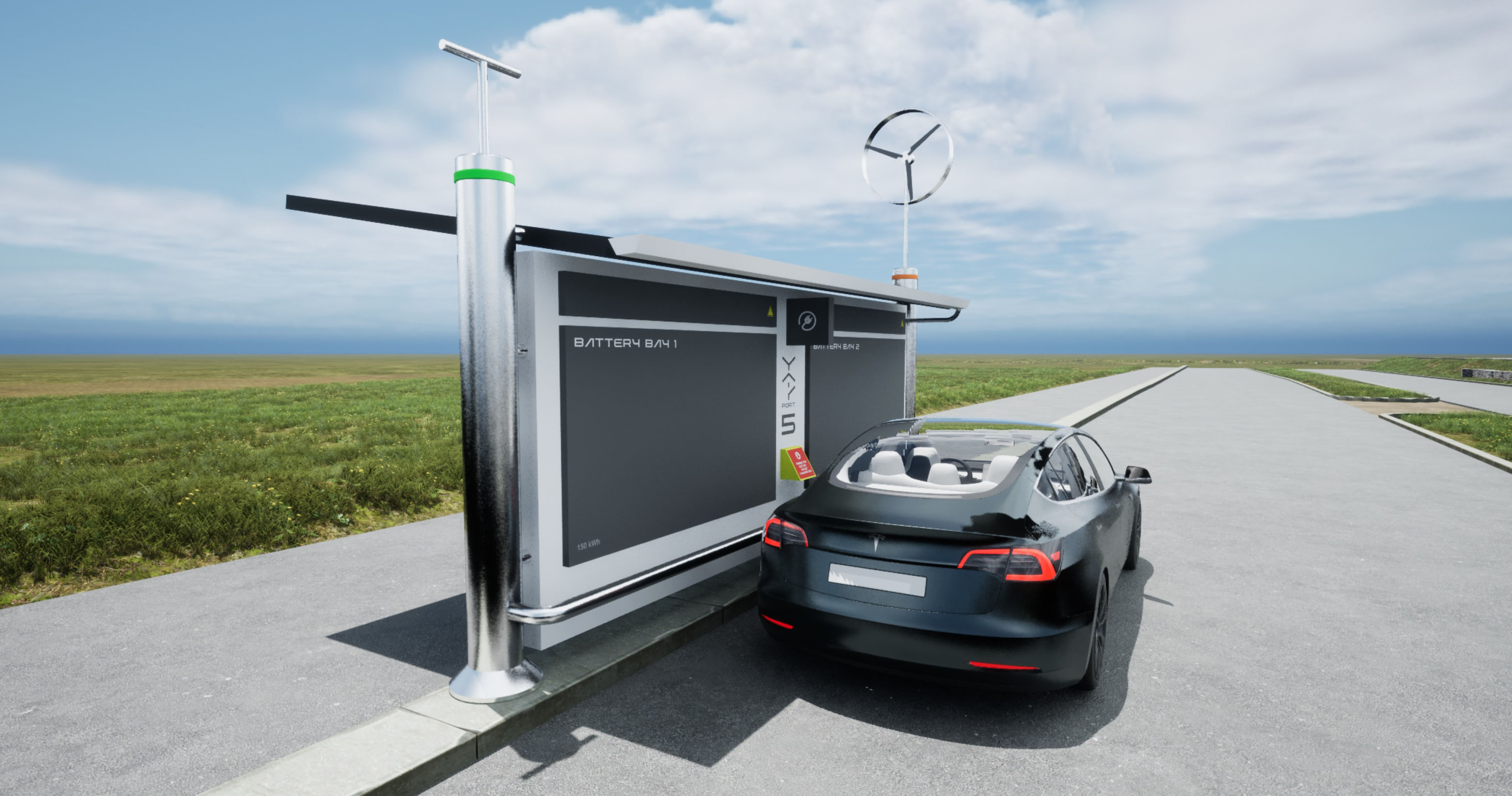 Designed to be installed anywhere in less than an hour, such as a seafront road, residential street or rural park, thanks to its built in batteries, the NetZero compliant BzzzStop would solve flaws with current on and off grid single 'pump' EV chargers, including:
Digging up the ground
Cables running across pavements from home chargers
Lack of access to rapid charging capable grid energy
Difficult to upgrade or adapt to future technologies
Dull uninspired industrial design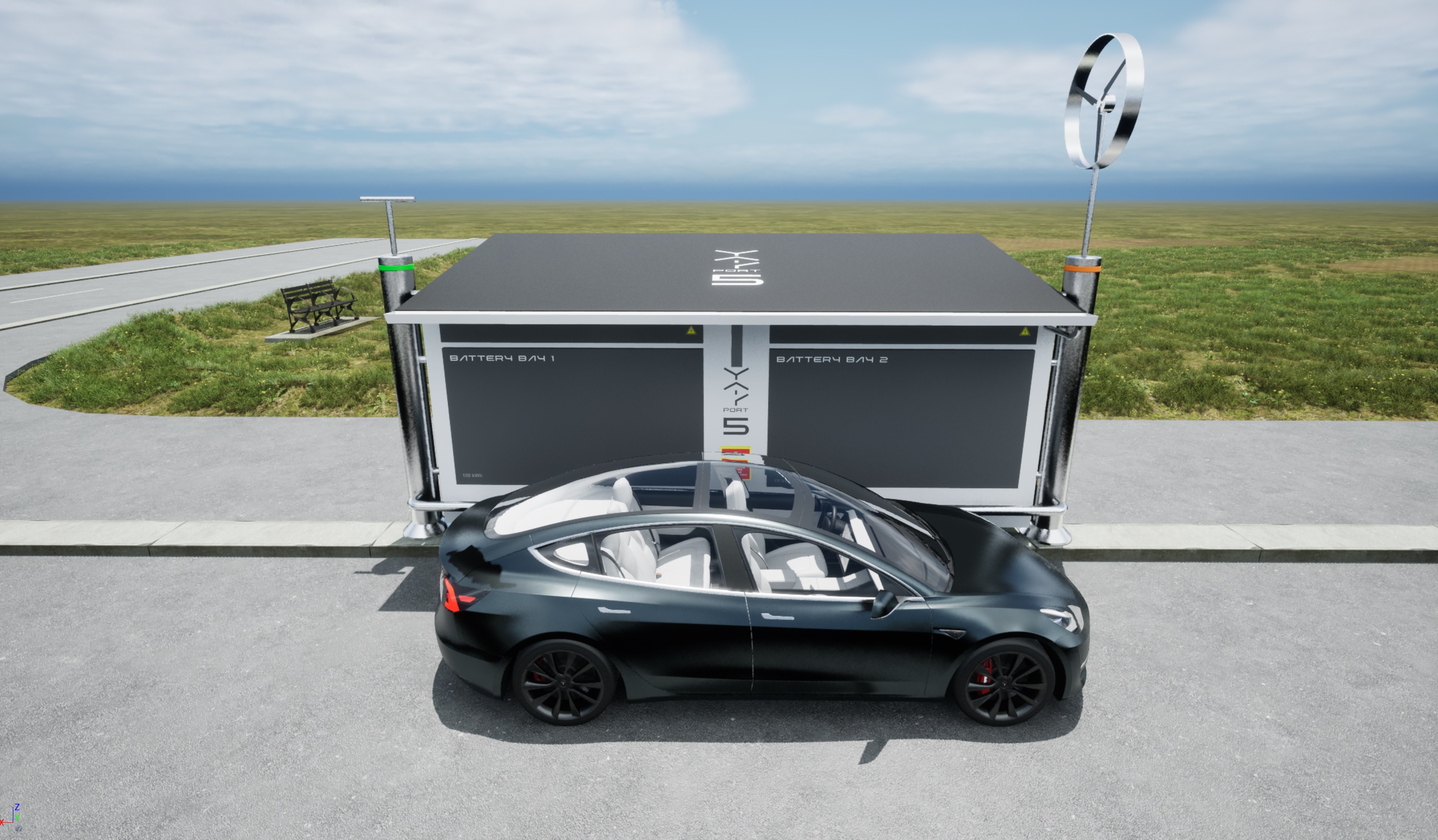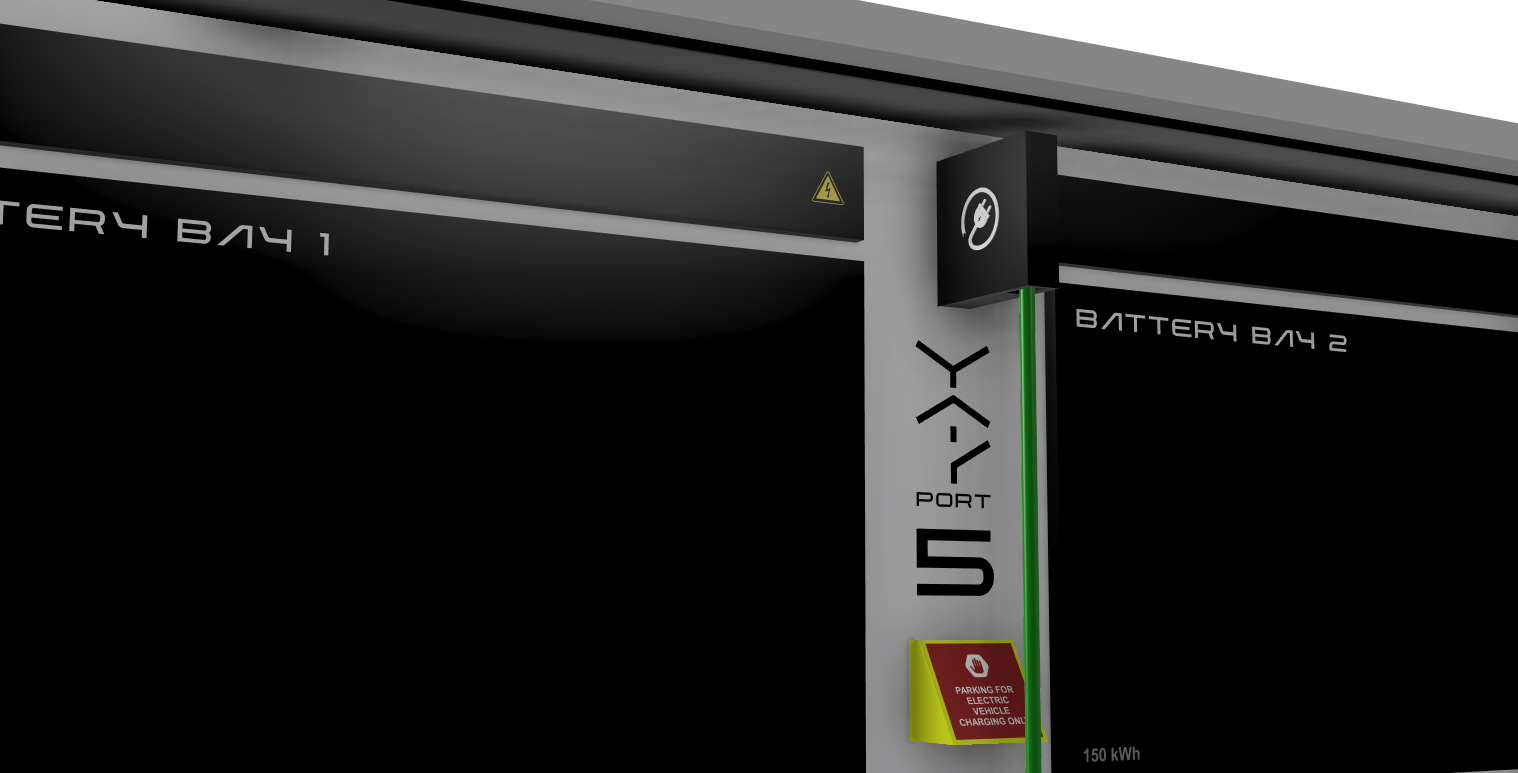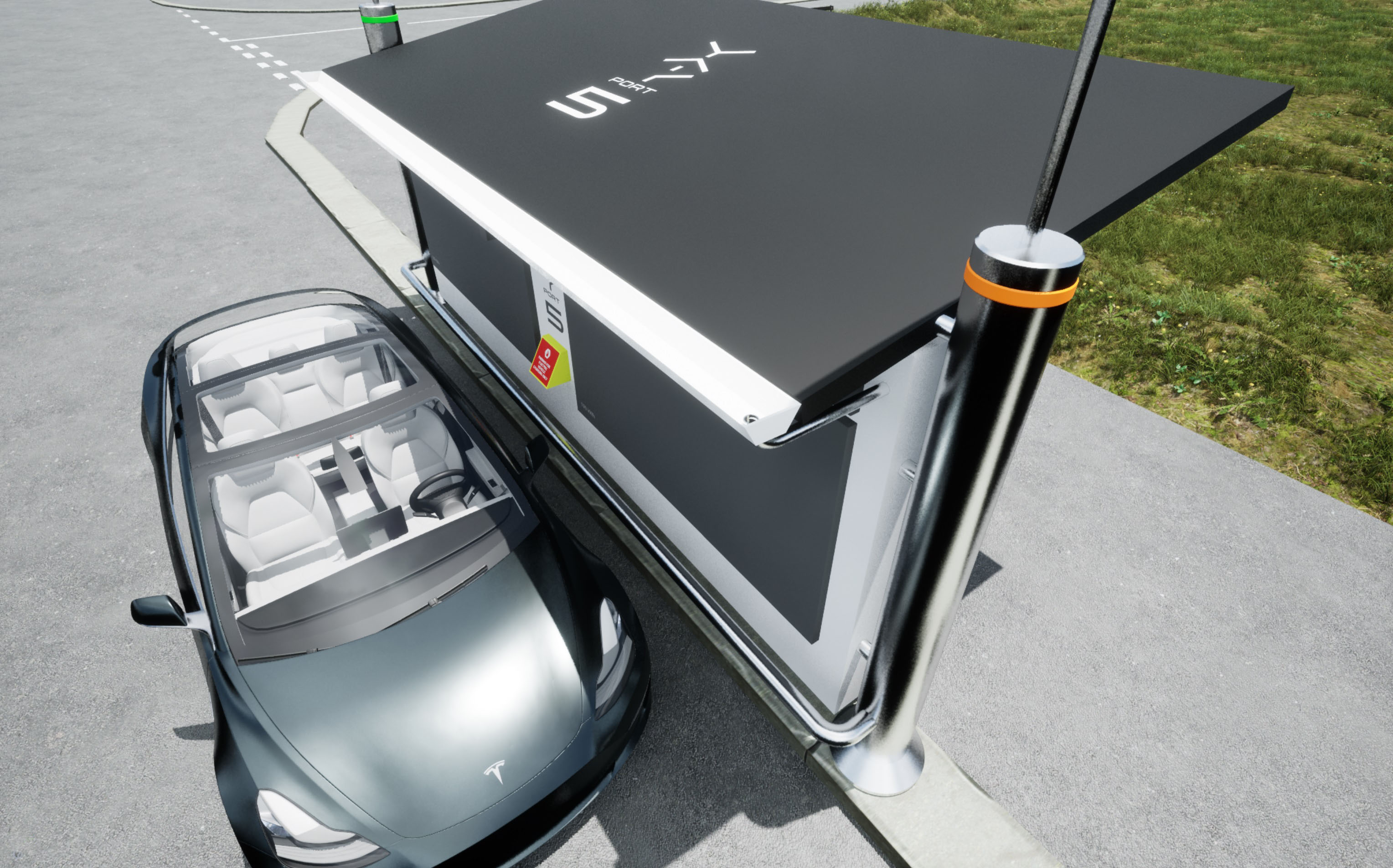 The BzzzStop battery capacity will allow 3-5 vehicles per day to be charged with up to 30KW at 50-150KWh, approximately 100 miles of range in under 30 minutes. The angle of the solar roof can be adjusted during installation to face the sun.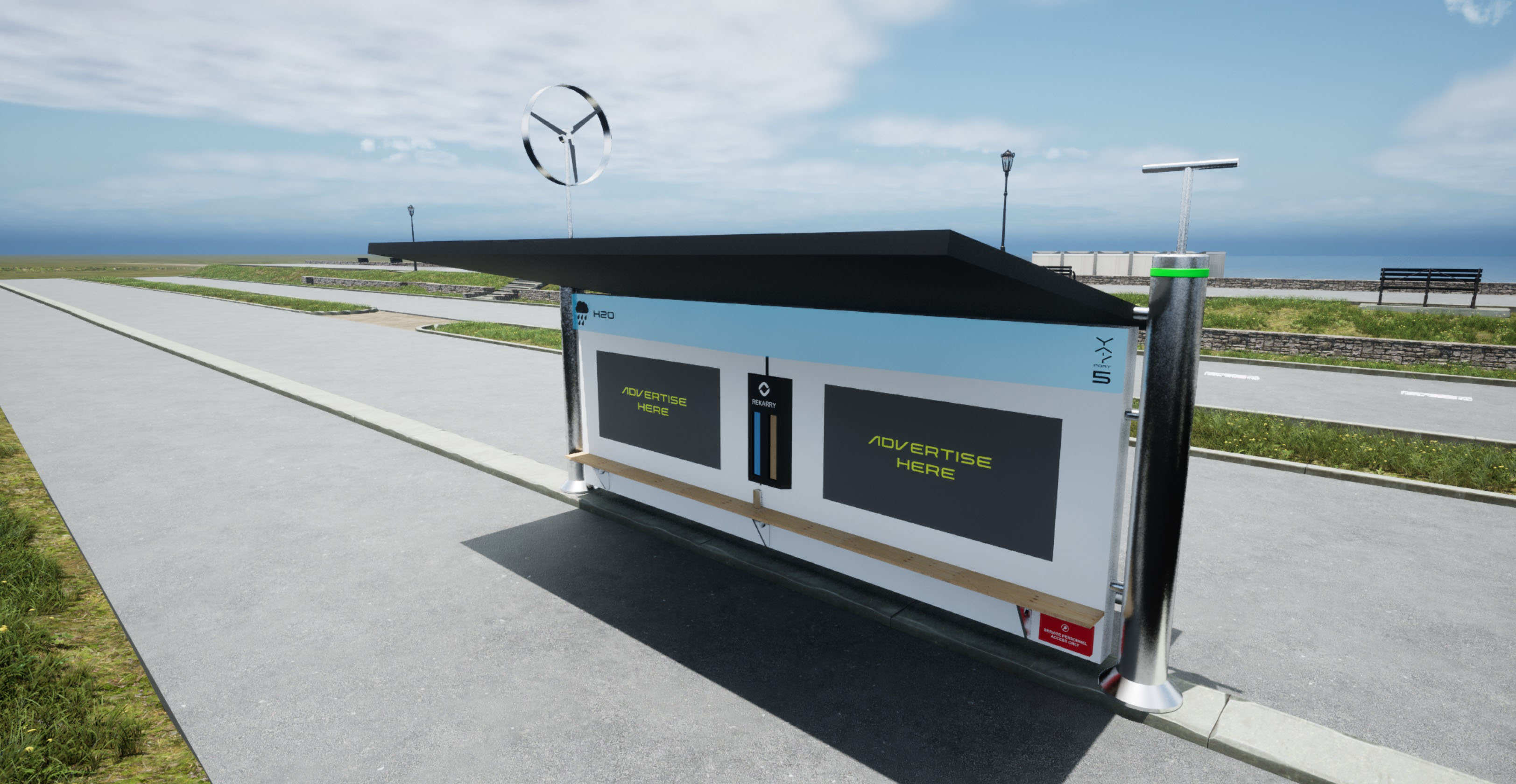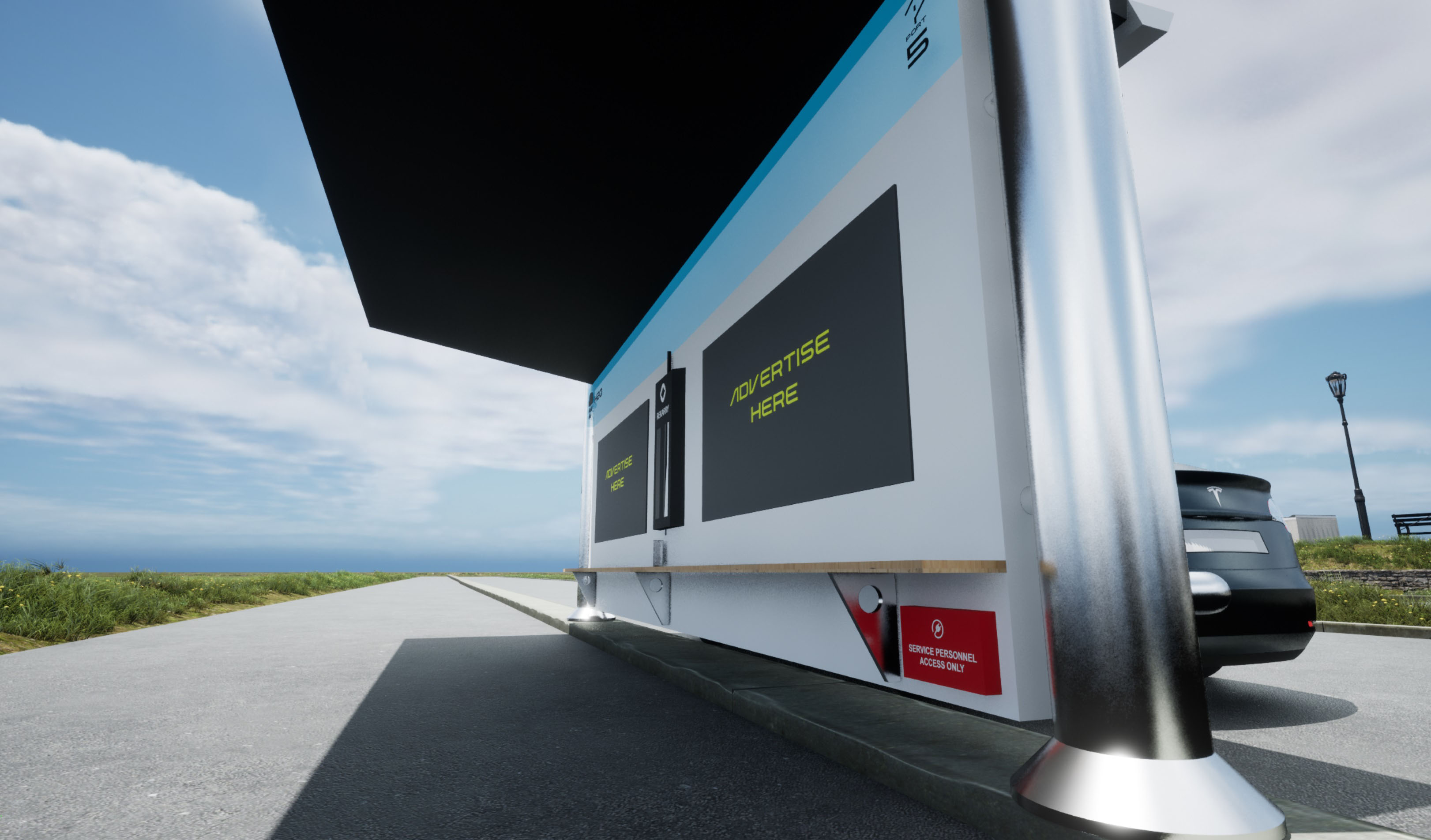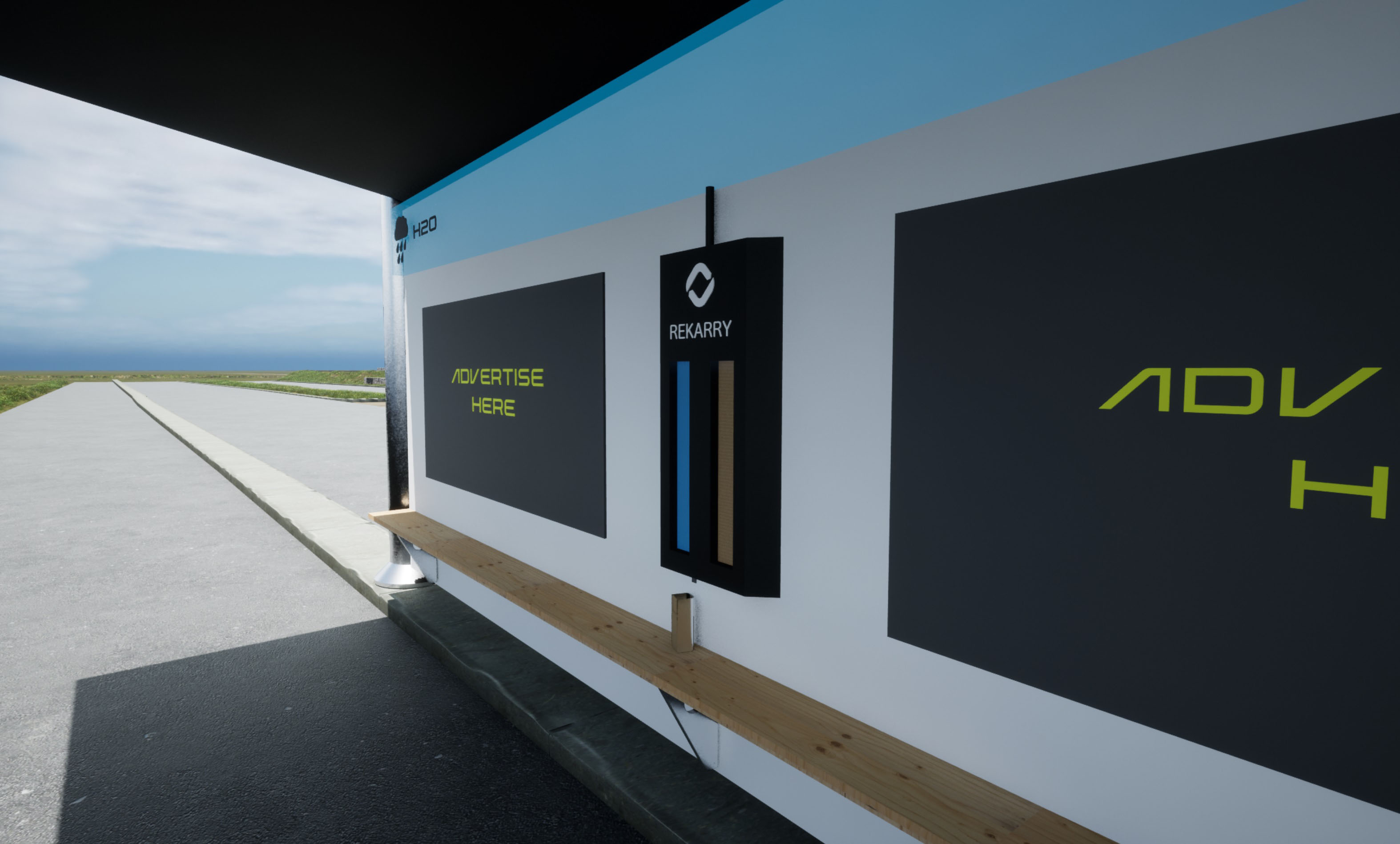 The batteries can be charged using the following methods:
A local grid connection
In situ from a battery truck, ideally overnight, when there will be space for it to park
Trickle charge top up from built in solar panels + wind turbine
The solar panel and wind turbine will not deliver enough power to provide anything other than trickle charging of the batteries, but will provide clean energy to the ancillary features of the BzzzStop via a smaller auxillery battery. Consumers will associate the solar panel and wind turbine with green energy.
Constant telemetry will notify YAIR and the nearest charging truck (BzzzTruck) when the battery charge is low.
HOW A BZZZSTOP WORKS
Driver uses app to book a BzzzStop, or if the app senses the vehicle battery is low, the driver will be alerted to the nearest BzzzStop or other suitable charging point.
Driver pulls into space. The robust 'Tom Bar' barrier ensures that if the driver or other motorist accidentally collides with the BzzzStop, the vehicle does not hit and damage the batteries.
Charging cable automatically lowers from roof spool
Driver plugs cable into vehicle
While waiting, the driver can buy a wrapper free all natural energy bar from the REKARRY vending machine and fill up his ProdPod® 001-400-01 from the purified rain water dispenser
Payment can be made by the contactless terminal or app
Driver exits BzzzStop
If at an off grid installation a BzzzStop battery requires charging, a notification will be sent to the hearest mobile charging truck.
VALUE PROPOSITION
Two batteries allow BzzzStop to be installed almost anywhere
Each battery features it's own regulator, transformer and other associated electronics to ensure if one bay fails, the other can continue to operate
Adjustable angle solar roof with wind turbine
Ultra violet rainwater purifier
REKARRY vending machine
Charging perch for future delivery drones, including those from YAIR
Pedestrian bench + USB + Wireless charging ports for personal gadgets
HEYYU Digital Signage offers share in advertising revenue to BzzzStop owner or leaseholder
To help birds see and avoid a collision, the wind turbine blades are black
Off grid installations reduce strain on the grid network
IP54 rating protects electrical systems from inclement weather conditions
Crash barrier' protects the batteries from accidental vehicle impact
For temporary intallations or those without a suitable anchor point for the two pillars, heavy 2m long feet can be fitted to the base of the pillars
Upgradable to wireless charging pad
REVENUE OPPORTUNITIES
Charging fees
Overstay parking fees
Advertising on the HEYYU Digital Signage displays
REKARRY vending machine energy bars
SPECIFICATION
Capacity: 300 kWh (Proposed minimum)
Charging rate: 7.5-150 kW (Minimum)
Plug standards: CCS, Tesla SuperCharger, CHAdeMO

Telemetry: Cellular or StarLink®, depending on location

Width (Roof): 6250mm
Height: 3000mm (Approx)
Depth: 3000mm

Solar panel energy output: 900 watts
Mini wind turbine energy output: 500 watts (at 18 knot windspeed)
INTRIGUED?
Touch base.

@YairEnergy
SEE ALSO