+ PRESERVING YOUR CONTENT LIKES
PROBLEM
Keeping a long term record of your preferred books, music tracks and movies* is not easy due to the plethora of distribution mediums today, from physical media to streaming. Further, some content may be removed from subscription services due to changes in licensing arrangements and therefore cannot be relied upon to keep track of your preferences.
*Films, as posh Brits say.
SOLUTION
The
Like Logs
from our PiCosm platform offers a proven reliable method to keep a permanent record of your content
haves
,
wants
and
likes
.

+ REDUCING PRODUCT RETURNS
PROBLEM
For consumers, purchasers and researchers, obtaining accurate specifications for a product can be very frustrating. How many times have you had to perform multiple searches across the Internet to try to find accurate specs for the product you want - even from trusted brands?
SOLUTION
The
Product Profile
feature offered by our PiCosm platform is the only way to create easy to share, detailed, accurate and permanent profiles of your product(s).
Not only that, but you will be ready for our PiCosm Virtual Earth, and if you really want to be part of it, the so called 'metaverse' that others are developing.

+ LEAVE ME ALONE!
PROBLEM
Sharing your contact, location, social media, web links and other details is fraught with security and privacy risks and can be fiddly too, such as when dictating a lengthy email address on the phone. Further, if any of your details change, you have to notify everyone.
SOLUTION
By joining our privacy centric PiCosm platform, you get to choose a permanent numeric ID known as a Pi, short for Presence identifier. And it is all you will need to share. For your Pi is linked to your
PiCard
, a futuristic online visual profile / business card that consolidates all your contact details and social media links into one easy to share point of reference that you can update at any time.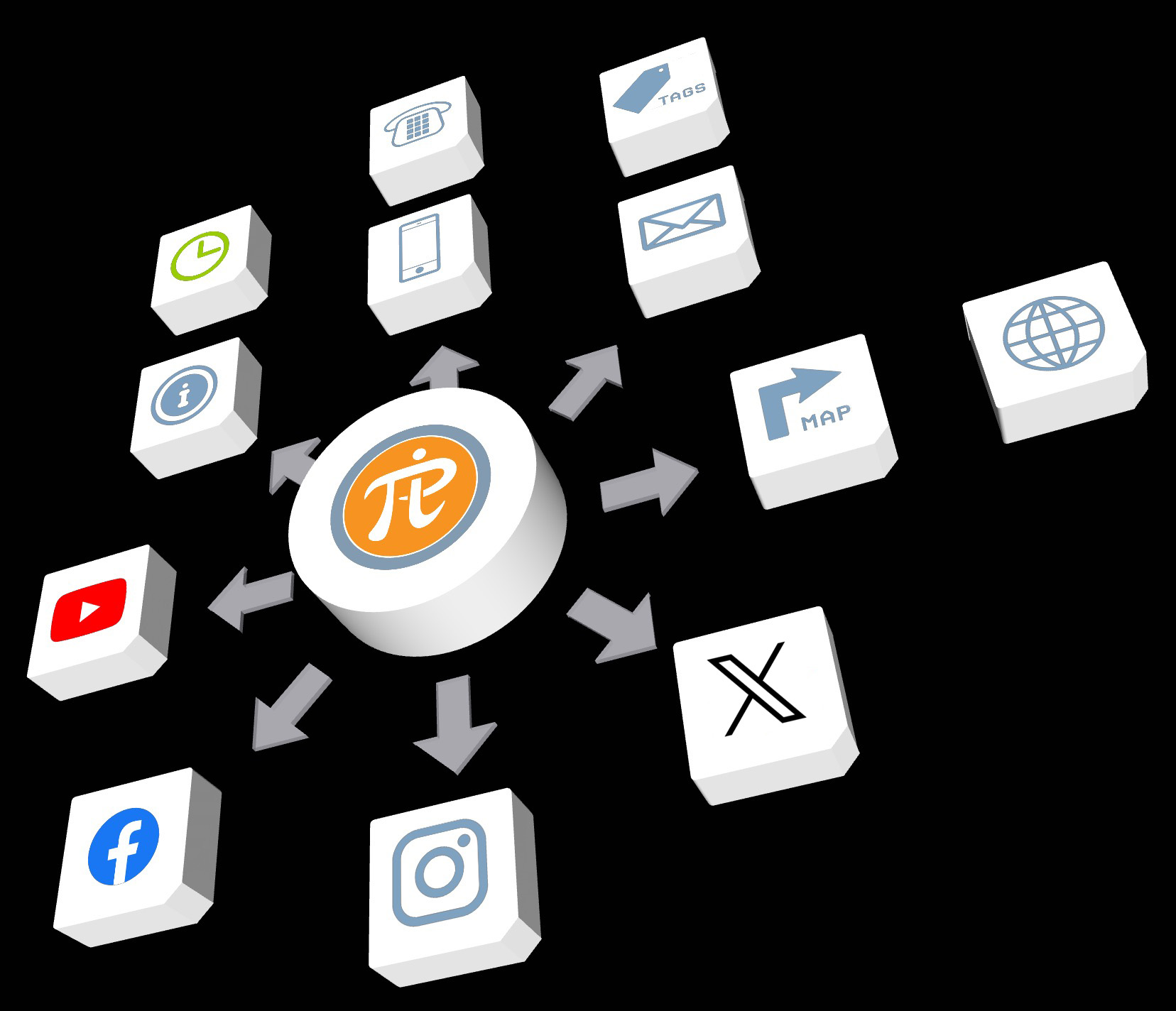 Your Pi represents it all
To protect your privacy, you can specify
who
sees
what
on your PiCard. For example, share your personal email and Instagram with Sue, but not Dave, and your mobile phone and home street address with friends and family, but not everyone ('public'). If you're a home based business, you may opt to share your landline, website address and town or city name with the public, but not your full street address.
+ FMCG CONTAINERS
PROBLEM
Wasteful packaging and toxic plastics decimating life.
SOLUTION
Our most important venture, REKARRY®.
+ REMOTE / KURBSIDE EV CHARGERS
PROBLEM
The majority of electric vehicle (EV) chargers are connected to the power grid. Although this provides a more consistent source of energy, installation requires digging up the ground and running cables from the grid - and that is if the local supply can support fast chargers, such as 350kWh. From an environmental point of view, there is no guarantee the power is generated from clean energy sources.
SOLUTION
Although only a conceptual solution, in less than one man week, disatisfied with current offerings for remote or kurbside installations, YAIR designed the YAIRPORT 5, otherwise known as the
BzzzStop
. An off and on grid single EV charging port with built in batteries and a few additional innovations to encourage an off grid economy.
Long term, we envision the BzzzStop batteries being charged from larger local solar and wind sources and/or 'BzzzTruck' mobile chargers that YAIR are currently designing.
+ SCENIC & LANDSCAPE ART ONLINE
PROBLEM
Viewing scenic art on the Internet is not really as compelling as being out in the real world being awestruck by a stunning view or cityscape. That makes it harder to turn the art into sales due to limited traction.
SOLUTION
Imagine being able to explore rural scenes and beautiful campuses and cities through immersive artwork. Online galleries and artists, rejoice!, for YAIR have developed core technology for THE ARTWALKER PROJECT (
Artwalker.com
), the world's first and only location based art platform that displays paintings of scenes near an art lover using their device GPS. Not only that, but they can navigate through interlinked artwork using our unique Navicon™ system.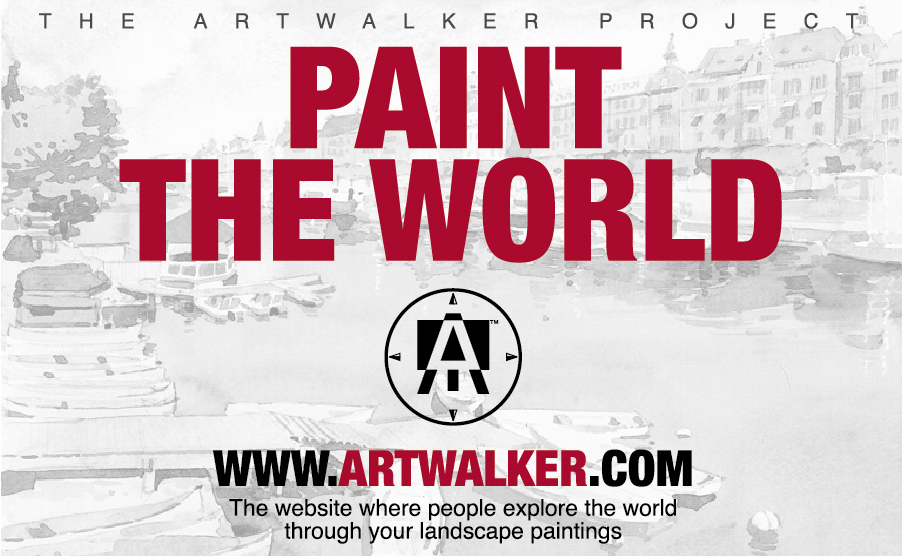 Painting © Miho Simunovic
The profiles of art lovers and featured Artwalker artists can be handled by the privacy centric identity management component of the innovative
PiCosm
platform.
+ DEVICE & UX DESIGN
PROBLEM
To GTD, you do not want to battle technology. From fiddly microwave oven buttons to so called productivity gadgets and computers, thoughtless industrial and usability design can be a barrier to progress.
SOLUTION
We're on the (use) case preparing a small collection of electronics
products
that put design perfection first - invaluable uncreepy utility robot included.
Beep beep
.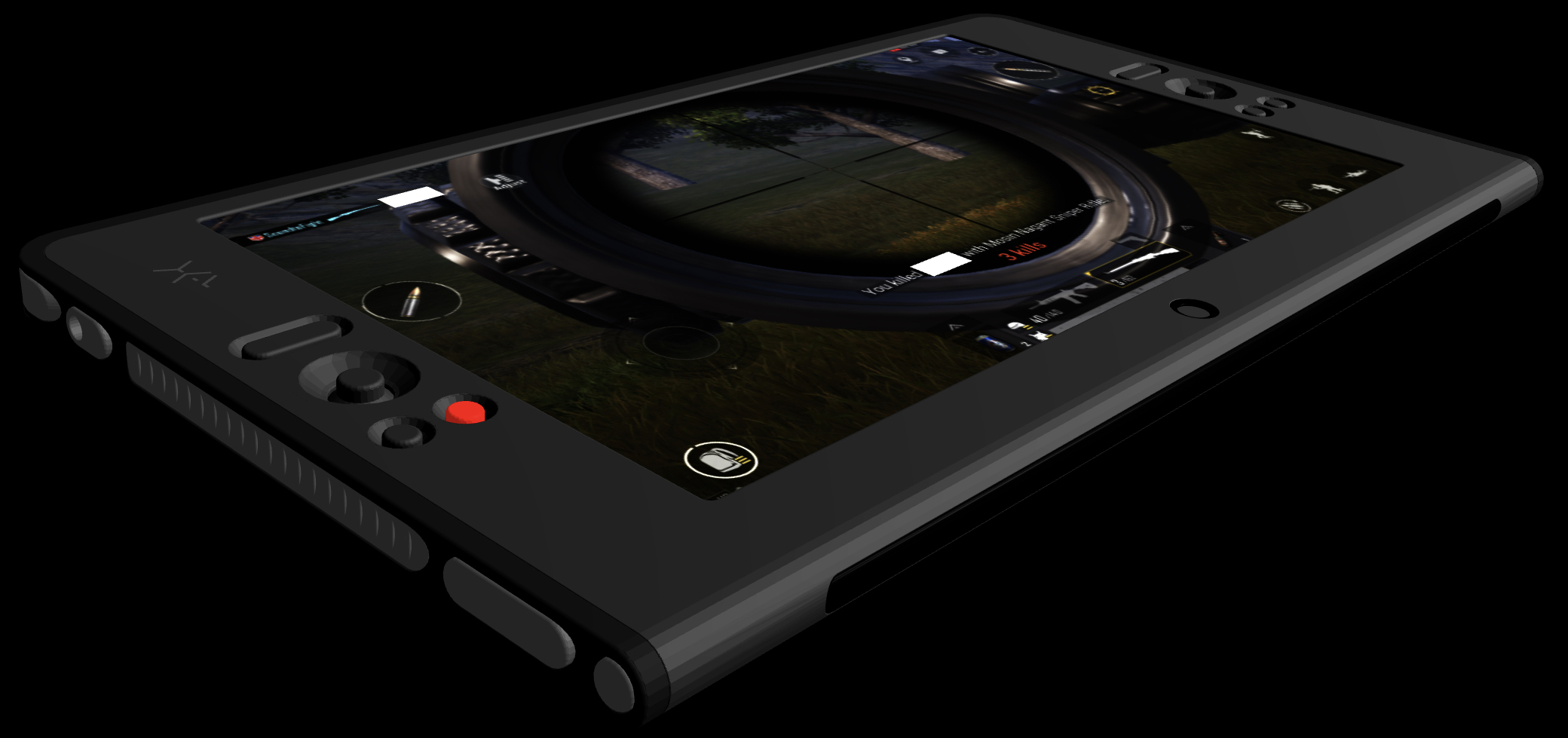 We will be delighted to extend our design skills to your ventures.
+ ARCHITECTURE FOR WELLBEING
PROBLEM
Multiple studies have proven that poorly designed living and working spaces affect physical and mental heath. The majority of buildings are constructed to meet budgets, with little or no imagination applied during the design stage. Some homes even inherit elements conceived centuries ago. For example, small windows that let very little light in were introduced in England when taxes were linked to window size. Poor natural ventilation is another issue. Simply opening one or more windows may not be practical, in particular during inclement weather.
SOLUTION
A Net Zero off grid existence is better for your health, reduces stress (say NO to
unpredictable
periodical energy bills), is better for the environment and inspires creative lifestyle choices. Our OKADIA design philosophy is being applied to ingenious SNAP™ modular architecture and connectivity technology that make next generation sustainable buildings viable, flexible and resiliant. Clever 24/7 thermal venting ensures the air indoors feels as fresh as it is outdoors - where there is no dust...
Best of all, the lower total cost of OKADIA SNAP over time is ideal for affordable and social housing, with dignity.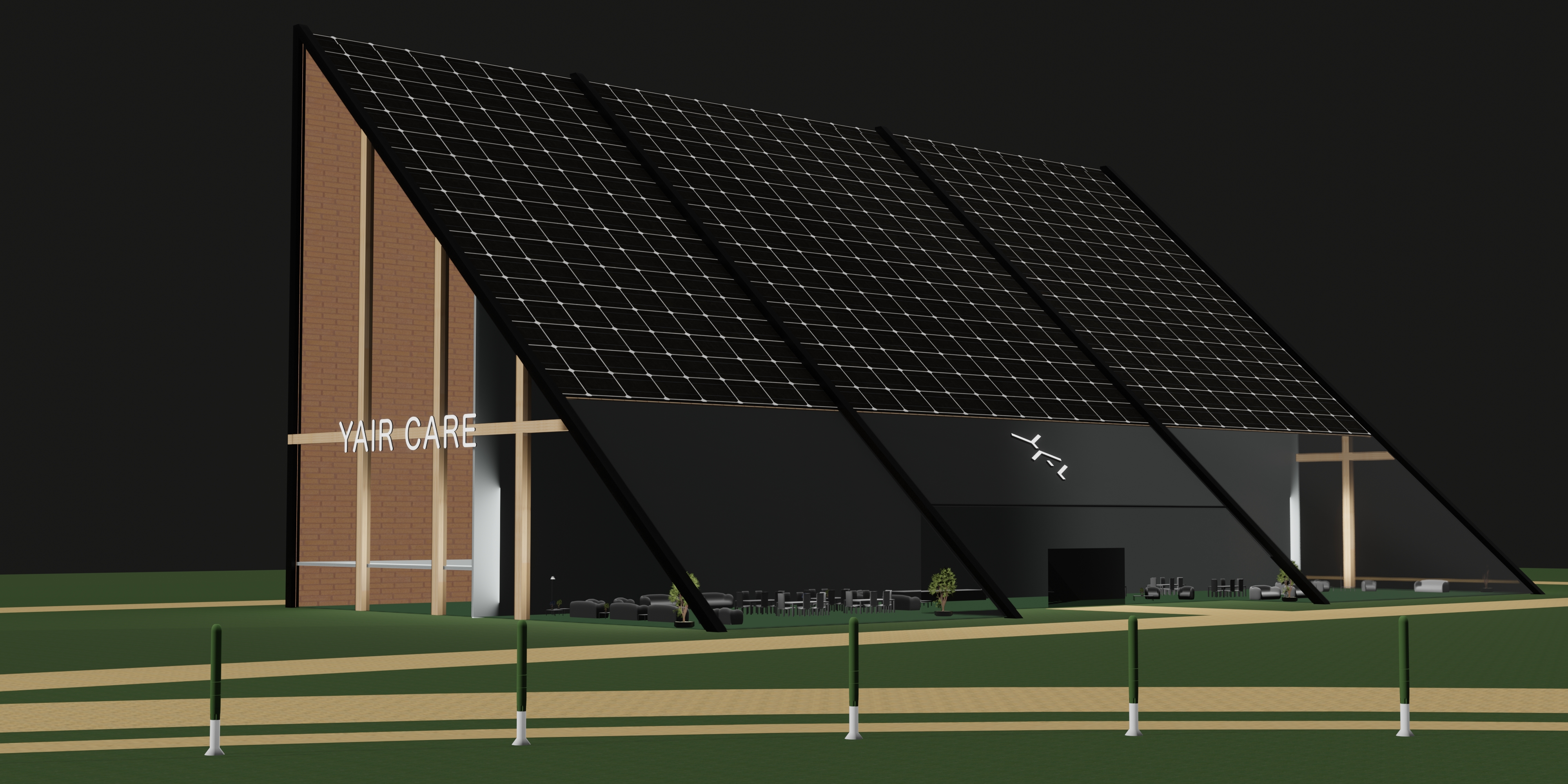 Proposed non modular OKADIA Principle building featuring large solar roof and Vortex wind turbines
How do we do it? By researching and experimenting with materials, solar panels, mini wind turbines, batteries, iOT (Internet Of Things) devices and other paraphernalia, so you don't have to.
Planners and property entrepreneurs, follow us on Twitter @yairenergy to keep up to date with developments.
+ VEHICLE INTERIOR ERGONOMICS
PROBLEM
Since the invention of the motor car, the main driving controls (throttle, clutch, brake, steering wheel, gear selector) were fortunately positioned correctly and the layout carried across brands, models and nations. The position of the steering wheel the only differentiating factor. Unfortunately, the secondary controls, such as lights, climate and others differ in position and operation, hindering safety and convenience. Further, with contemporary vehicles featuring sophisticated built in 'infotainment' systems, there is even less consistency. This is made worse by some inexcusable UX design, including within the latest EVs.
How often do you get in a vehicle belonging to a friend or rental company and spend the first few minutes familiarising yourself with the controls? And then when driving, panic when accidentally activating the wipers instead of the lights or cannot find the fog light switch? We won't discuss the horrors of proding infotainment system touch screens. It is just too painful.
SOLUTION
Vehicle manufacturers, YAIR can offer decades of user experience design to help provide your customers a naturally intuitive and safe driving experience. We can also provide some enlightenment on driver assist and autonomous vehicle technology. All said, no matter the hope and hype, the latter is still a while away, therefore tactile manual controls still need to be considered. In fact, with drivers becoming less focused due to driver assist features such as smart cruise control & lane following, manual control layout and visual display clarity is even more crucial for safety.
If we can provide some guidance, navigate to our contact form.
+ GAMING INNOVATION
PROBLEM
With some exceptions, video gaming over the last few decades has revolved around increasinly complex sports, 3rd person shooters and visually stunning but unoriginal fantasy. Every year or so each franchise is subtely changed, with little true change. To be honest, we think it's getting boring.
SOLUTION
YAIR'S Joy division is designing the gravity harnessing adrenaline pumping DropRocket™ 3D air to ground racer plus our visually stunning tripple "Ah, wow!" 'BattleSonics™' audio reactive game. Titles that move away from samey shootem and fightem ups to something original and compelling.
For PlayStation® first of course.